Clayton Smith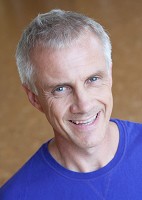 Director & Yoga Teacher
Yoga means full engagement with life. Yoga has radically transformed and literally saved my life. By the age of 40, I was mired in a debilitating pattern of addictive and self-destructive behaviour. I was labelled "bipolar" by the "experts" and prescribed heavy sedatives to keep me "sane." Thankfully, Grace intervened. Yoga restored me to balance and made life worth living again.
Every teacher has taught me something. The greatest impact on a daily basis is the love of my life, Shanine. Also, Nesta Falladown, Tony Murdock, Todd Norian and Ann Greene.
I teach physically, emotionally and mentally challenging Anusara classes with humour, care and precision, interweaving yoga asana, philosophy, pranayama and meditation to help students break through self-limiting beliefs and reveal their true selves.
Clayton Smith instructs the following:
Join The Naked Sprout Team and Dr. Andrea Maxim, ND, for a 7 Day Medically-Supervised Juice Cleanse. Heal your mind, body and spirit and feel lighter in oh so many ways! Choose to prepare and juice everything yourself, have us prepare your produce for juicing or have us do everything for you and all you have to do is drink.

You will experience the following benefits:

Natural and safe weight loss through detoxing and cleansing
Mental clarity/improved mood
Better digestion/elimination
Healthy and radiant skin and eyes
Radical energy increase
Improved sleep
Reduction in bloating, inflammation and other food allergies
Establish new, lasting, healthy habits
Feel sexier and improve your libido

Cleanse dates: June 4 - 10.

In-person meeting dates: May 27, June 3, June 10 (7:00 - 9:00 pm) or you can attend the meetings via webinar at the same times or watch recorded webinar anytime after the meeting.

For more details, please go to http://www.thenakedsprout.com/pages/7-day-juice-cleanse

3 Pricing Options:

1. Do it Yourself ($125*)

7 day menu plan, recipes and detailed grocery list. Buy your own food.

2. Do it the Easy Way ($445*, less than $65/day*)

7 days of raw ingredients (washed and cut) provided in pre-packaged bags. All you have to do is grab a bag and feed the goodies into your juicer.

3. Do Nothing but Drink (Pick-up $600*, delivery $635* - Only available within 30 kms of The Naked Sprout)

All the juices made for you and delivered to your house each day or picked up at The Naked Sprout.

* All prices do not include HST. For the full price, please add the HST

** Bring a buddy for moral support and save $25 off any plan! After you and your buddy have signed up, email us at juicecleanse@thenakedsprout.com with both of your names and we'll refund you each $25.

*** Normal discounts apply to the basic workshop package price (Do It Yourself) only. If you are a Chrysalis member and register for one of the other options, we will refund $12.50 of your purchase price.




Meditation creates a state of deeper relaxation, reduces stress, and creates self-awareness. Explore meditation techniques from various traditions and feel the benefits that meditation has to offer.




A practice that is heart-oriented; bathed in a philosophy of intrinsic goodness and yet grounded in the Universal Principles of Alignment. This class builds to a pinnacle pose which can be challenging yet liberating.




A night to bask in the music of an up and coming musician. Every night will be different with a new or returning musician playing a musical instrument. One of THE best yoga classes you will experience. The beat of the music moves you from one pose to the other as you sink into a deep meditative flowing state.