Awards! Awards! Awards!
Thank you for nominating and voting for us! We are so humbled by your enthusiasm for all the hard work we do and the food we make! We hope to conitnue to impress you and help you on your life journey!
---
Healthiest Food - 2013
We won the award from Hamilton Magazine for Healthiest Food Served.
---
Best Restaurant, Vegetarian Cuisine & Friendliest - 2013
We won 19 awards in the Burlington Post's Reader's Choise Awards.
Diamond (1st Place):
Friendliest
Best Original Cuisine
Best Vegetarian Friendly
Best Food Presentation
Platinum (2nd Place):
Best All Round Restaurant
Best Overall Service
Best Health Food – Prepared
Best Lunch with Clients
Best Sandwich
Best Atmosphere
Best Casual Fine Dining
Best Dining with Friends
Gold (3rd Place):
Best Girls Night Out
Most Romantic
Best Family Celebration
Best Family Restaurant
Best Café
Best Lunch
Best Lounge
Our Yoga Studio also won Best Yoga Studio!
---
Best Restaurant & Yoga Studio - 2012

We were nominated in 7 categories for Burlington Post's Readers' Choice Awards and we WON in ALL 7 categories. Our yoga studio also won Best Yoga Studio. Here are the categories we won in:
Best New Restaurant for 2011
Best Original Cuisine
Best Casual Fine Dining
Best Food Preparation
Best Vegetarian Friendly
Friendliest
Best Health Food Prepared
---
Best of Canada Natural Health Award - 2012
We Won "My Favourite Find This Year"Award in the Best of Canada 2012 Natural Health Awards. It is our honour to serve up organic vegan culinary delights to all who visit!
---
Best New Restaurant - 2012
We won the Hamilton Magazine's Award for Best New Restaurant 2011!
---
Events, Interviews, Parties
We have been invited to and have participated in many events in our community. We have also been intereviewed by local TV agencies and been highlighted in prominent magazines. Take a look.
---
The Halton Pumpkin Trail - October 2013

The
Halton Pumpkin Trail
ran for the month of Ocotber, and we participated by using local pumpkins to create many different Pumpkin-inspired Soups, as well as our featued Pumpkin Risotto and Pumpkin Pie!
Burlington Lifestyle - September 2013

Teresa Baerg of Burlington Lifestyle visited and wrote a review of The Naked Sprout and our sister company, Chrysalis Yoga. You can
Find It Here!
Juicing Article in Silver & Gold Magazine - September 2013

Our Fabulous Co-Founder Clayton wrote an article on juicing that has just been published in Silver & Gold Magazine! Full of valuable and interesting info -
Check it out on page 21
!
WoW Living TV - August 2013
WoW Living TV is a fun, family lifestyle and entertainment show with a focus on healthy living for all ages. As part of the "Healthy Home Inside & Out" episode, The Naked Sprout was featured to share how a vegan diet is not only a super healthy choice, but a delicious one too!
Check out the segment
(at 18:30 in the show), where Chef Conner makes our Raw Manicotti!
Sylvia's Vegan Kitchen - July 2013
Check out this fun video interview with George and the coolest - Sylvia
Food Critic in the HOUSE - June 2013
Wow, a food critic from The Hamilton Spectator came to The Naked Sprout and we heard he was a carnivore. We also heard that he can be tough. What a relief when we read the article. We were jumping over the moon!
Check out his article: The Naked Sprout is a tasty change for this carnivore
Thank you Dan Kislenko
---
CHCH with Hamilton Veggie Fest - June 2013
CHCH came to our restaurant and interviewed Jane, our Chef and other vendors from Hamilton Veggie Fest. Check it out. CLICK on the IMAGE below.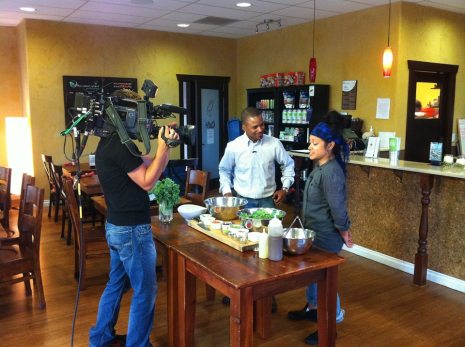 Rian's Duathlon, Sponsored by TNS - Aug 2012
Rian, who used to work at The Naked Sprout, before heading off to University, ate raw and mainly fruit. Check out his race and how nutrition helped his performance.
---
Niagara VegFest - June 2012
The Naked Sprout was at Niagara VegFest serving up Wild Seed Massaged Kale Salads and Somebody Kelp Me noodles flying all over the place; fresh young coconuts being hacked open (lovingly) and slices of raw cheesecake dished out for all to enjoy!
---
Drum Circle - May 2012
The Naked Beat drum circle came to The Naked Sprout. See if you can spot our owner, Pete and Director, Clayton.
---
Interview with Terra Home (CHCH) - Jan 2012
We were interviewed by Terra Home & Garden. To view our section on Chrysalis Yoga & The Naked Sprout, please fast-forward to 10 minutes into the interview.
---
Anniversary Party - June 2012
Check out our Sprout Server Nicole serving up some delicious raw pancakes at our One Year Anniversary Party in this month's edition of SNAP!
---
Toronto International Film Festival - Sep 2011
We supplied food at the Green Zen Lounge where film makers, actors, press and others shared our amazing food. We received amazing Raves about the food!
---
Featured in the Hamilton Magazine - 2011
Executive Chef, Pete, was interviewed by Hamilton magazine in an article that listed the top healthy, vegan restaurant in the area. Our lasagne was featured in the article.
---
Grand Opening Party - 2011

Our grand opening party was captured by the press. We also had Blair Lancaster, councillor, come to visit the yoga studio and restaurant.